Conservatives gather in Denver to talk 'Frontier Freedom' and the battles ahead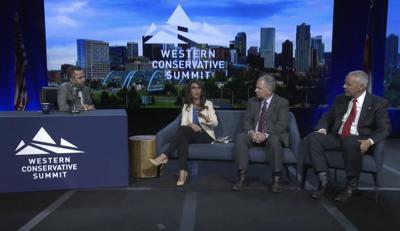 This year's leaner, meaner Western Conservative Summit brought together right-leaning luminaries from around the country to Denver this weekend to discuss conservative ideas and sound the alarm over a growing number of threats.
In its 12th year, the two-day summit, sponsored by Colorado Christian University's Centennial Institute, brought together hundreds of activists, politicians and scholars — joined by people who watched at least some of the proceedings online — to view conservative principles through what organizers called "the unique lens of the American West."
Organized and planned before anyone knew whether pandemic restrictions would still be in place, this year's summit was held at a hotel in downtown Denver across the street from the Colorado Convention Center, where attendees in previous years had filled cavernous exhibit halls.
Instead of the roughly 3,500 avid conservatives who flocked to the event at its height, this year's affair capped attendance at 500, though its reach might have been much greater because the entire program was live-streamed online, with organizers counting tens of thousands of viewers across platforms.
Institute president Jeff Hunt introduced and interviewed the featured speakers on a main stage decked out to look a lot like the set of a late-night talk show.
Click (HERE) to go to the website to read the rest of this story