Constraints will help Colorado governments weather downturn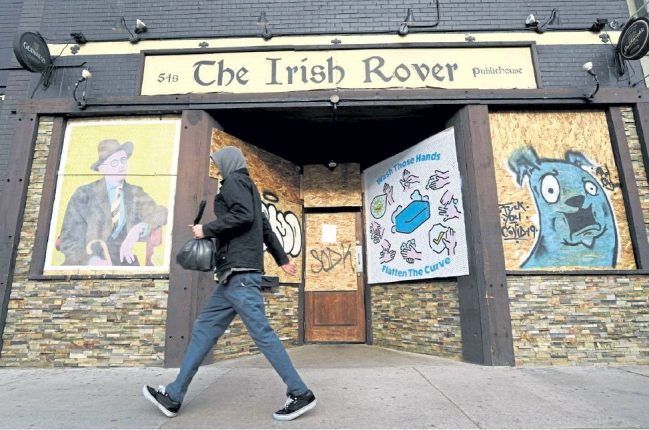 Shelby Meyer passes by The Irish Rover, one of many restaurants and bars now shuttered along South Broadway in Denver on April 14. The coronavirus has caused many businesses to shut their doors during the coronavirus pandemic. Helen H. Richardson, The Denver Post
By Peg Brady
Guest Commentary
Peg Brady is a retired software analyst and designer. She has served on the TABOR Foundation Board of Directors for more than a decade.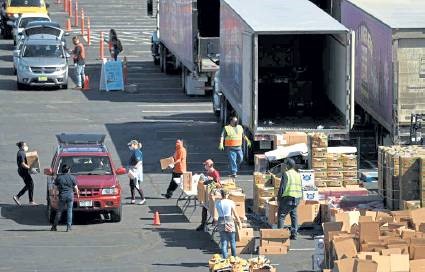 The Denver Broncos and Food Bank of the Rockies hosted a mobile pantry at Empower Field at Mile High on April 27 to help people in need during the pandemic. RJ Sangosti, The Denver Post
The Taxpayer's Bill of Rights (TABOR) has provided welcome stability to Coloradans as we all deal with the coronavirus pandemic. This provision of our state constitution allows all governments throughout Colorado an automatic but reasonable annual budget increase. The limits keep governments from growing too fast.
Therefore, when the economy gets into trouble, Colorado state and local governments have a more firm base for their spending and do not need to cut as drastically as other states. Government programs are more sound, strong and sustainable than if they had grown as fast as ambitious politicians often wanted. TABOR helps us to confront the current crisis.
Moreover, just when families and businesses are struggling, the Taxpayer's Bill of Rights has led to timely tax relief. The state tax system has evolved so that, when times are good, it over-collects tax revenue. Last year, Colorado over-collected $428 million. TABOR mandates that the state rebates to you excess revenue collected during a fiscal year. So, the 2019 tax rate has been reduced from the usual 4.63% to 4.5% — a 0.13% drop.
You won't receive a tax refund check; instead, the legislature reduced the income tax rate. Because the rebate is being accomplished through the lower tax rate, you may not recognize how much money you saved. Still, because the state will not incur the cost of issuing and mailing checks, we save that expense as well.
To continue reading this TABOR article, please click (HERE):