Will Democratic Primary Voters Tolerate a Liberal?
A former Colorado governor will test whether the Sandernistas have taken over the party.
By James Freeman
March 4, 2019 4:55 p.m. ET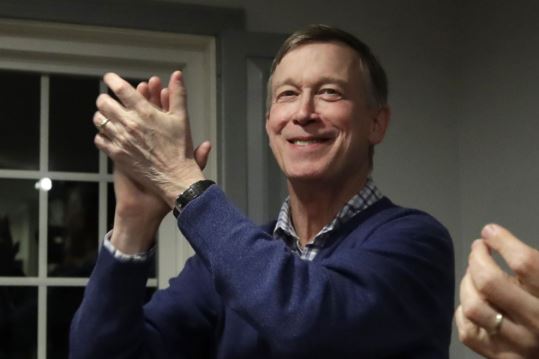 Former Colorado Gov. John Hickenlooper at a campaign house party in Manchester, N.H. last month. PHOTO: ELISE AMENDOLA/ASSOCIATED PRESS
Sen. Bernie Sanders of Vermont is claiming a socialist victory in the battle of ideas. Meanwhile former Colorado Gov. John Hickenlooper is running for President and testing whether economic non-extremists can still win Democratic presidential primaries.
Sunday in Chicago, Mr. Sanders implied that people no longer view him as a Marxist kook. The Chicago Tribune reports on a Sanders speech at Navy Pier:
"Three years ago, they thought we were kind of crazy and extreme, not the case anymore," he said. "We are not only going to defeat (President Donald) Trump, we are going to transform the United States of America."
Mr. Sanders has certainly made extremism cool among Democratic presidential candidates. All of his fellow senators seeking the party's nomination have joined him in co-sponsoring the Green New Deal and its promise of government health care and the end of traditional energy sources. They have also voted for an abortion policy so expansive that it allows adults to decide the fate of children even when they are no longer in the womb.
On Wednesday this column described an opportunity for potential candidate and former Vice President Joe Biden to offer a non-radical message and added that "seizing the opportunity will require him to offer not just a different tone compared to his 2020 rivals, but a different agenda." So much for a different tone. Later in the week, under leftist Twitter duress, Mr. Biden repudiated his earlier comment that Vice President Mike Pence is a "decent guy."
This brings us to Mr. Hickenlooper. The Journal's Reid Epstein writes that the former Colorado governor is "the first member of the crowded field to run by trumpeting a record of working with Republicans." Mr. Epstein adds:
"I'm running for president because we need dreamers in Washington, but we also need to get things done," Mr. Hickenlooper said in a video released Monday morning. "I've proven again and again I can bring people together to produce the progressive change Washington has failed to deliver."
Mr. Hickenlooper, the 14th Democrat to formally launch a presidential campaign, is a former geologist turned brewpub owner who was mayor of Denver before being elected governor.
Refreshingly in a Democratic field dominated by ideologues, lawyers and legislators, Mr. Hickenlooper is an executive and was a successful entrepreneur. He has enacted significant environmental regulation of the energy industry in Colorado, but he has not sought the industry's demise. He is a liberal, not a Marxist. Particularly on social issues, Democratic activists should find plenty to like in his record. Mr. Hickenlooper's appointees to the Colorado Civil Rights Commission have aggressively sought to force the state's bakers to make gay wedding cakes.
The Denver Post sums up his career:
In addition to leading the state during an explosive economic expansion following the Great Recession, Hickenlooper nudged the state to the left. By the time his second term ended in January, he had expanded the state's Medicaid program, signed comprehensive gun-control legislation and helped establish civil unions for same-sex couples prior to the U.S. Supreme Court legalizing marriage equality.
It seems that Mr. Hickenlooper did little to impede the state's economic expansion, partly because voters rejected his plan for a tax hike. In its 2016 fiscal policy report card on America's governors, the libertarian Cato Institute noted:
General fund spending has ballooned under Governor John Hickenlooper, rising 48 percent between 2011 and 2016. State government employment has soared 22 percent since Hickenlooper took office. Hickenlooper pushed for a large individual income tax increase on the ballot in 2013, which would have replaced Colorado's flat-rate 4.63 percent tax with a two-rate structure of 5.0 and 5.9 percent. That increase was rejected by voters, 65 to 35 percent.
In its 2018 report, Cato observed:
Under the state's Taxpayer Bill of Rights (TABOR), strong revenue growth triggers automatic refunds to taxpayers, and state officials are expecting to issue refunds in the coming years. TABOR is a useful safeguard against government overexpansion, but Hickenlooper wants to change the law so that the state can spend more.
Colorado will receive hundreds of millions of dollars a year in extra tax revenue as a result of the 2017 federal tax law, and this money will automatically flow into the state's coffers because it is a rolling conformity state. But rather than using this windfall to reduce state tax rates, the governor and legislature have decided to spend it.
The state government also has a new source of revenue: marijuana. Citizens legalized it for recreational use on the 2012 ballot. The state is collecting growing amounts of revenue from the product, up to $247 million by 2017. Hickenlooper signed a bill raising the marijuana sales tax rate from 10 percent to 15 percent.
Now Mr. Hickenlooper, who has so far avoided calling for a federal takeover of the health care industry, is going to see if Democratic primary voters nationwide will go for a candidate promising somewhat bigger government rather than much bigger government. David Leonhardt suggests in the New York Times today that there is a market for what Mr. Hickenlooper is selling:
…Gallup found late last year that most Democratic voters — by a margin of 54 percent to 41 percent — would rather their party move to the center than to the left. (Most Republicans, by contrast, want their party to continue moving right.) In another recent poll, by Monmouth, most Democratic voters said they would prefer a nominee likely to win the general election to one who shared their views on most issues.
If Democratic activists can forgive Mr. Hickenlooper for his successful business career, they may decide he's a decent guy.
https://www.wsj.com/articles/will-democratic-primary-voters-tolerate-a-liberal-11551736500?mod=djemBestOfTheWeb